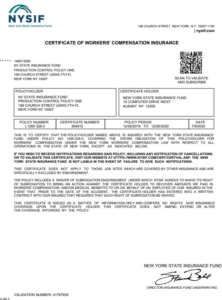 Certificates of insurance provide proof of coverage for workers' compensation insurance.  Certificates are needed for building/work permits and for employers who do work for others to ensure workers' compensation coverage.  There are only two certificate of insurance forms accepted by most government agencies:  the C-105.2 or the U-26.3 issued by NYSIF.
Lovell understands the need to create and send certificates quickly. Lovell's submit a certificate form streamlines this service with the goal of providing an electronic certificate within an hour and most times within minutes during regular business hours. Safety Group certificates offer a blanket waiver of subrogation when needed at no cost. If the waiver doesn't show on the certificate, please contact an insurance representative at 1-800-5LOVELL (568355) or email us at: Certs@LovellSafety.com so the proper endorsement can be added to your policy after which all future certificates can include the waiver of subrogation.  
Additional certificate features include a QR (quick response) code, which can be scanned to instantly validate a certificate and prove coverage, along with the ability of certificate holders to validate and subscribe.  Validation can be done using the following service: Certificate Validation (nysif.com) .  Upon validation, the certificate holder will see the following message, "Alert me if this policy cancels," from which they can subscribe to receive notices of cancellation.
Get a Certificate: Existing Customers
Need Insurance? Get a Quote